We have received the brand-new Dell Inspiron 3593 laptop from Mumbai. We unboxed it, reviewed it and here is our review. In the Laptop Radar review of this Dell laptop, we've ensured to give you a detailed and unbiased information that you'll find nowhere else. So, let's get started and join us for more guide.
If you gain a valuable solution from us then follow us and share this useful information with friends.
Laptop Radar is the only one who really tested the laptop first and then write laptop reviews so it definitely help you in the future also so join us now on all platforms to stay updated with the latest technology.
Facebook | Twitter | Telegram | Quora
Technical Specs: Dell Inspiron 3593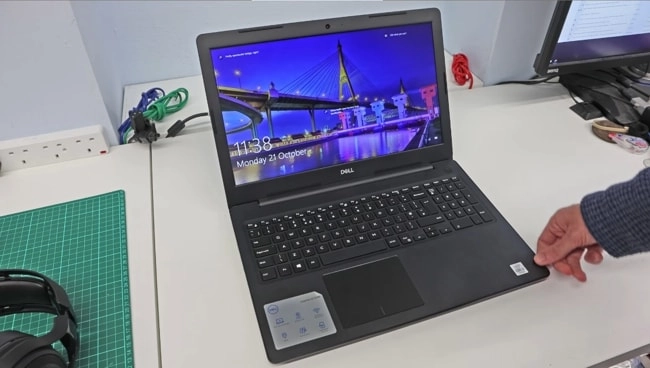 CPU: 1.0 GHz Intel Core i5-1035G1 | 10th Gen | 4 Cores | 4MB Cache
GPU: NVIDIA MX230 2GB GDDR5
RAM: 8GB DDR4 | 2666MHz | Single channel | Upgradable to 16GB
Storage: 1TB 5400RPM HDD + 256GB PCIe NVMe M.2 SSD
Display: 15.6-inch FHD | TN panel | 204 Nits
Battery: 42Wh Li-ion | 3 Cell | Approx 6 hrs and 11 minutes on YouTube
Wireless connectivity: 802.11ac Wi-Fi | Bluetooth 4
Weight: 2.2 Kg (4.85 lbs)
Laptop dimensions: 38 x 22.58 x 2.27 cms
Where to buy?
Best laptops under Rs 50,000 in India
Build Quality
The Dell Inspiron 3593 laptop is made of all-plastic. But, despite the plastic build, I found it pretty sturdy and solid enough. The design is too classic and not much lucrative compared to Asus, Acer, and Mi laptops of under Rs 60,000 price.
When it comes to fingerprints, they show up easily on matte textured surface. But, it's easy to clean using micro-fiber cloth.
In addition, I have noticed no colour change over-the-use. In some laptops of white base, the surface reflects yellowish after so much of use. But, that's not the case with this one.
Dimensions and Weight
The dimensions of this Dell Inspiron 3593 laptop are 15-inch in width, 10.1-inch in depth, and 0.9-inch in height.
| Dimensions of this Dell Inspiron 359 | In inch |
| --- | --- |
| Width | 15 |
| Depth | 10.1 |
| Height | 0.9 |
In addition to that, I have also measured the weight using Propert's weighing scale.
For laptop only: 2.2 kg (4.85 lbs)
For laptop + charging accessories: 2.4 kg (5.3 lbs)
Why I've checked such weight? It's because to give you an idea about total weight you may need to carry while travelling. This Dell laptop feels heavy compared to other laptops.
Display
The Dell Inspiron 3593 laptop comes with a 15.6-inch FHD display. It has TN panel and 60Hz refresh rate. The display is surrounded by almost 10mm thick side bezels, which is out-design. In addition, the screen contrast ratio is 431:1, which is too lower than the recommended value of 1000:1. And, it also delivers below-average good viewing angles because of unavailability of IPS panel.
Here, the need to G-Sync is worthless to consider because this laptop comes with an NVIDIA MX series GPU. It's not a dedicated gaming laptop but it can fulfil your gaming needs certainly.
In addition, I have measured the colour reproduction of the screen using Spyder 5 PRO. And, below are the results for SRGB, AdobeRGB, NTSC results.
As you can see in the above chart that the results are below-average that to be required for the content creators like photo and video editors. See in the below chart where this laptop in the comparison of other laptops of nearly similar prices.
You can see that our Dell laptop is at the last position. In addition to that, I have also tested the brightness of this laptop.
The Dell Inspiron 3593's display has reached nits at 204.3, which is at too low. The value for display nits we recommend is at least 290-300 for easy content visibility in the direct sunlight.
When display nits are compared with other nearly same priced laptops, this one's display has secured last position, which is shameful.
Furthermore, when I intentionally moved the screen up and down, I found a little bit of flex there. But, to be honest, I didn't found any problem.
In addition, the hinge doesn't allow the display to turn 180-degree right back to the keyboard. Also, whenever I have tried to open it with one finger, I have lifted the base. That reflects the uneven distribution of weight across the hinge.
Keyboard
The chiclet keyboard of Dell Inspiron 3593 laptop is made of all-plastic. When pressed it down hard using fingers, I found a little bit of flex there. But, it wasn't problematic for me and has not even extended to the palm rest area. I have also aggressively typed but still not found a single problem.
The keyboard has a white zonal backlit of 3-level. It's capable enough to illuminate the secondary functions of keys also.
It's better in feature when compared to Mi Notebook 14 Horizon laptop.
When it comes to typing experience, I found the keys were travelling 1.5mm distance down side – a recommended by us. But, the inconsistent tactile feedback has disappointed me. The keys are noisy but you will find okay compared dedicated mechanical keyboard.
In addition, unlike Asus and Acer laptops, the power button is isolated from the keyboard. And, that eliminates the possibilities of accidental wrong press of power button. In the keyboard, there are 4 arrow keys which are small in size and wrongly placed.
Overall, the keyboard is good for programmers and content writers but not better when compared to Acer Swift 3 SF314-57 laptop.
Best Wireless Keyboard Mouse Combo under Rs 1500 in India
Touchpad
The touchpad is 4.1-inch wide in size and found smooth and responsive. But, its accuracy in gesture tracking has disappointed me. In addition, it also doesn't support Windows Precision drivers despite very heavy price.
In addition, it doesn't click down anywhere. It has two separate buttons at the bottom of the keyboard. The touchpad is feels pretty sturdy. When you will press the buttons, you will get a noticeable sound, which may distract you. For gaming needs, you will need to buy a dedicated wired mouse for that.
RAM
Dell has equipped 8GB of DDR4 single channel RAM to offer you smooth multitasking. In addition, you can upgrade it to 16GB also. In addition to that, below I have compared the RAM of other laptops of Rs 60,000.
Mi Notebook 14 Horizon: 8GB DDR4 | 2666MHz | Single Channel | Not upgradable (read the full review)
Acer Swift 3 SF314-57: 8GB DDR4 | 2400MHz | Dual channel | Upgradable up to 32GB (read the full review)
Asus VivoBook S14 S403JA: 8GB LPDDR4X | 3733MHz | Dual channel | Not upgradable
Lenovo Ideapad S340 81VV008TIN: 8GB DDR4 | 2666MHz | Dual channel | Not upgradable
Acer Aspire 5 A514-52G: 8GB DDR4 | 2400MHz | Dual channel | Expandable to 12GB
Lenovo IdeaPad S145: 8GB DDR4 | 2400MHz | Single channel | Upgradable to 12GB
HP 14s DR1009TU: 8GB DDR4 | 2666MHz | Dual channel | Upgradable to 16GB
Dell Inspiron 14 3493: 8GB DDR4 | 2666MHz | Single channel | Not upgradable
Acer Aspire 3 A315-23: 8GB DDR4 | 2666MHz | Single channel | Upgradable to 12GB
CPU and GPU Performance
The Dell Inspiron 3593 is powered by Intel Core i5-1035G1 processor and NVIDIA MX230 graphics. In addition to that, Dell has also provided a 256GB of large SSD storage to let you open and edit heavy faster. And, it has also a storage worth 1TB HDD.
CPU and GPU Benchmarks
To check the performance CPU, I have conducted the Cinebench tests. Cinebench score represents the CPU's performance.
As you can see in the above image, the Cinebench single and multi core scores are 401 and 1351, respectively for with and without cooling pad test mode. When I have undervolted the CPU by 0.15v, the multi core score has raised to 1367.
Wow! The CPU undervolting is found useful. See, the raise of 10 or more in Cinebench score shows the major performance increase.
But, I am worried that the cooling pad can't help in performance increase.
In addition to that, see in the below where this Dell Inspiron 3593 is, when compared to other laptops of price nearly Rs 60,000.
So, the Dell Inspiron 3593 laptop has achieved quite good position.
In addition, I have also checked Geekbench 5 benchmark performance.
In a test by Geekbench 5, the Dell Inspiron has achieved 1078 score on single core and 3386 score on multi core. See where it's when compared with other laptops under Rs 60,000.
So, the Geekbench 5 score comparison has revealed the satisfactory things about Dell Inspiron 3593 laptop.
Now, what does this scores tell?
It tells the performance of the laptop. The higher the score, the higher the performance. Here, you have to consider the multi-core score. Take a note that, Geekbench doesn't put an excessive load on the CPU like Cinebench R20. And, Geekbench considers mainly productivity tasks like emailing, browsing, multitasking, and etc, to evaluate the hardware.
And, these ways cannot give you an idea about the cooling solution. Because tiny tasks don't make much stress on the CPU. Hence, If the laptop has a higher Geekbench multi-core score means its capability for productivity is much better. But, at the same time, information about thermal throttling and the cooling solution will remain unanswered by this tool.
Average CPU and GPU Clock Speeds
The Dell Inspiron 3593 laptop has a Intel Core i5 -1035G1 chip that has a base speed of 1.0GHz and can be overclocked to 3.6GHz.
The average CPU and GPU clock speeds were measured by performing the stress test using AIDA64 tool. The average of 3 runs is in the below image.
You can see that during stress test, CPU and GPU clock speeds are 2471MHz and 1521MHz, respectively. And, when the cooling pad is added, the CPU and GPU clock speeds were further raised to 2478MHz and 1521MHz, respectively. But, with 0.15v CPU undervolting, both' clock speeds were raised to 2717MHz and 1538MHz, which is pretty impressive.
But, take a note that CPU undervolting is not for office use, it's for gaming need. But, for this laptop, it's pretty effective. And, the purchase of a cooling pad also won't get wasted. But, it's not much useful also for this laptop.
Furthermore, as Dell Inspiron 3593 is not a gaming laptop, I don't have to check it for TDP as it isn't required here. I would have done it if this was a gaming laptop.
Video Editing performance
In this test, I have exported the 16 minutes and 13 seconds long video in YouTube 4K H.264 preset using Adobe Premier CC. And I have repeated the same test 4 times further to show you the average result.
It took almost 24 minutes and 44 seconds. Let's compare it with other same price laptops.
So, the position is not good but not bad also. Also, it's worth to mention that this laptop nearly smooth during video editing.
Thermal Performance
I've performed the thermal performance test using AIDA64 tool to check whether CPU Undervolting and/or a cooling pad is useful in temperature reduction or not.
So, you can see that the cooling pad is pretty effective to reduce the temperature. And, the CPU undervolting is also way more. Hence, buying the cooling pad is worthy for this laptop in terms of temperature reduction only. That's the only outcome of this test.
Furthermore, in the following chart, I have compared the temperatures of laptops measured during stress test at an auto fan.
As per the above chart, this machine is on the 1st position that shows the lowest temperature of the processor during the processor-intensive tasks like video editing, gaming, and like. That directly reflects the impressive thermal management when compared to other laptops shown in that chart.
In addition, I have also checked for laptop's exterior temperature.
At idle: Keyboard and palm rest were cool – at mid 30 C.
During stress test at auto fan: Palm rest was cool and Keyboard was at mid 40 degrees C. The exterior above the function keys was hot.
With the use of cooling pad: I found similar results to just above test.
Noise Emitted by Fans
At idle, the fan was completely silent. During the stress test, the noise has raised a little bit. But, during the stress test, it has gone crazy (47.8dB). In addition, also find Dell's position in terms of fan noise emission when compared to laptops of price under Rs 60,000.
You can see the position is 3rd but the fan is noisy (47.8dB louder).
Camera and Microphone
All I can say that Dell Inspiron 3593 has the most disappointing camera and microphone quality. And, I have observed that Dell's Inspiron series laptops have not worthy camera. I have rate both 3/10. I believe I should not also expect Windows Hello unlock support here.
Here is the position of Dell Inspiron 3593 when compared it other laptops of Rs 60,000 price.
So, our dear Dell laptop is the most back-bencher when it comes to camera and microphone quality.
Speakers
The 2 down-firing speakers are placed at the front-side of the laptop. They sound loud but has also a little bit bass present. In addition to that, they sound bit tiny. Digitech Sound level meter has measured 78dB of sound level while watching YouTube.
As you can see, Lenovo IdeaPad S145 has loudest speaker whereas Acer Swift 3 SF314-57 has to improve the loudness.
Ports
On the right side, there are the following ports from left to right.
1 Full size SD card slot
1 USB 2.0
1 Wedge-shaped lock slot
On the left side, there are the following ports from left to right.
1 Power input
1 USB Type-C Gen-1
1 HDMI 2.0
1 Ethernet
2 USB 3.1 Gen-1 Type-A
1 3.5mm Audio/combo jack
Here the USB Type-C port is able to transfer the data at 5Gbps. And, it is only used for data transfer.
When it comes to back, there's nothing except air exhausts. The bottom of the laptop has two belts of air intake vents. The bottom-right part is directly above the fan to suck the fresh air to keep the laptop internals cool.
Battery
The Dell Inspiron 3593 has 42Wh capacity battery.
It has lasted for 76 minutes during the continuous stress test and for 371 minutes while watching YouTube videos at 50% of screen brightness, keyboard backlightings off, and background apps disabled.
In terms of capacity, our Dell Inspiron 3593 device is not impressive when compared to other laptops.
Storage
Let me tell you that this Dell Inspiron 3593 has a 256GB of PCIe-based SSD storage in addition to 1TB of HDD. I have measured its speed and performance of SSD storage only using CrystalDiskMark. CrystalDiskMark is a tool most popular for the measurement of storage's performance.
You can see that it's too fast at reading and writing. The reading speed is almost 1855MB/sec and writing speed is almost 1249MB/sec.
Gaming Benchmarks
I have played the following games for exactly half an hour and the benchmarks in terms of FPS were measured for the maximum-settings.
Shadow of the Tomb Raider
Far Cry New Dawn
GTA V
Fortnite
Overwatch
Crysis 3
CS:GO
Final Conclusion
The Dell Inspiron 3593 has a very classic design. It's not lucrative but good for students because it's powered by very powerful processor. As per several benchmark tests, I found it good for programmers. And, it has a dedicated graphics card, too, which makes it eligible for beginner-friendly gamings also. In addition, the display is somewhat disappointing in terms of viewing angles and colour reproduction. The keyboard isn't tactile and touchpad isn't accurate like precision-enabled one. The storage of this laptop is extremely fast. What I liked is its thermal management. Furthermore, the Dell Inspiron 3593 is not a laptop for business-owners because of worst camera and microphone quality. Surprisingly, it has a USB Type-C port, which let you connect it with external display smoothly. Overall, a good laptop for entry-level users.
READ ARTICLES ON LAPTOP REVIEWS:
Latest full review Dell Inspiron 3593 laptop
In-depth review: Asus VivoBook S14 S403JA laptop
Lenovo IdeaPad S340 laptop full review
Acer Aspire 5 A514-52G laptop review
Lenovo IdeaPad S145 laptop in-depth review
HP 14s DR1009TU laptop review in detail
Latest review: MSI Modern 14 B4MW laptop
In-depth specs and features: Lenovo IdeaPad L340 gaming laptop